As one of the best One-stop-service Prototyping and Manufacturing supplier in China, RpProto offers high-quality die casting services to our customers. Our high-pressure die casting service can use materials including aluminium, zinc, magnesium, brass, etc.
We have our plant & facilities, and your die-casting parts are manufactured with high quality and short lead time. Our excellent inspection and testing equipment ensure the quality of your finished parts. We can take any project needs you may have.
You are welcome to take advantage of our comprehensive service at a reduced rate. Please do not hesitate to contact our engineering team for a free quote. We offer you an individual approach and the most cost-effective solution.
Start to Manufactur Prototypes easily
Our Facility for Die Casting
1       set           2500T             Aluminium Die Casting Machine
1       set           2000T             Aluminium Die Casting Machine
1       set           1000T             Aluminium Die Casting Machine
1       set             800T             Aluminium Die Casting Machine
2       sets           500T             Aluminium Die Casting Machine
2      sets            160T             Zinc Die Casting Machine
Maximum weight 12 kg
Maximum size 300 mm × 650 mm
Minimum wall thickness 0.8 mm
Maximum wall thickness 12.7 mm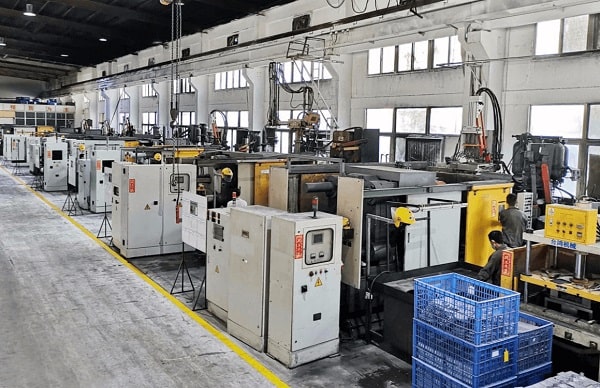 Hot Chamber Die Casting
Hot chamber die casting has a normal casting cycle of 16 to 20 minutes. A characteristic feature of hot chamber die casting is that the casting chamber is constantly in contact with the liquid alloy. The melt passes through a valve into the casting chamber, which is pressed at high speed into the closed die-casting mold by the piston.
This process is used for low melting point alloys, such as zinc alloy, lead, or tin.
Cold Chamber Die Casting
Cold chamber die casting machines are designed in such a way that the casting set is located outside the melt. The alloy is filled into the casting chamber and pressed into the die casting mould through channels to produce a component.
This process is suitable for materials with a higher melting point. These include, for example, aluminium, magnesium and copper alloys.
Nonferrous metals with low fusing temperatures, such as aluminium, zinc, magnesium, lead, and copper, can be used in the die casting process.
The choice of alloy for a particular application depends on budget, weight and material properties.
The properties of the most commonly used die casting alloys are explained below:
High corrosion resistance
High strength and hardness
High thermal conductivity
High electrical conductivity
Very good EMI/ RFI isolation
Good processing properties
Aluminium is one of the most common materials, with a share of more than 80%. Aluminium casting products are characterized by high quality, lightweight, and high hardness. It possesses high dimensional stability for complex part geometries and thin walls.
Die casting in aluminium produces parts that are incredibly light and strong. In comparison to other non-ferrous materials, aluminium die-cast parts have more surface finishing options and can sustain higher working temperatures. Die cast aluminium components have excellent rigidity and strength-to-weight ratios. They are highly conductive and resistant to corrosion.
Commonly used Aluminium alloys:  A360, A380,  A390, A413, ADC-12, ADC-1
Characteristics and Advantages of Aluminium Die Castings include:
Lightweight and Durable
Very good strength and hardness
Excellent thermal conductivity
Excellent Electrical Conductivity
Withstand the highest operating temperatures
Great Resistance to Corrosion
It retains high dimensional stability with thin walls
The melting point of magnesium is 520°C.
The main alloying elements of magnesium die casting alloy are aluminium, zinc, manganese, cerium, thorium and a small amount of zirconium or cadmium. It has the advantages of high strength, low viscosity, good fluidity, great corrosion resistance and easy filling of complex cavities. Magnesium alloy can be used for die casting of mould and thin-wall parts without thermal cracks.
Commonly used Magnesium alloys:
Magnesium is another material used for die casting. It has many alloys, but the most common one is the AZ91D, known for its toughness, durability, lightweight and good castability. It is 75% lighter than steel and 33% lighter than aluminium without losing strength. Most enthusiasts prefer magnesium as it is better for complex casting with tight tolerances and has better corrosion resistance.
The melting point of zinc is 380°C.
The main elements added to zinc die casting alloy are aluminium, copper and magnesium. It provides a good surface finish without the need for secondary processing. Importantly, zinc alloy is more cost-effective and stronger than other comparable alloys. Also, it has better fluidity and corrosion resistance, mainly used for die-casting meters, automotive parts housings, and other complex metal parts.
Commonly used Zinc alloys:
Zamak-2

Zamak-3

Zamak-5

Zamak-7

ZA-8

ZA-12

ZA-27
Zinc alloys have incredible strength, toughness, firmness, performance and cost-effectiveness. As a result, they are an important part of the die casting process, with properties rivalling and exceeding other alloys such as aluminium, magnesium, and bronze.
There are many alloys of zinc you can use. However, the common die casting zinc materials are Zamak #2, #3, #5, #7, ZA8 and ZA27, known for the following properties:
Improved Castability

Shortened Cycle Time

Extended Die Life

Ideal Mechanical Qualities
The last step in precision die casting is post-processing and finishing. Finishing is a process that can be used to remove surface glitches from casting parts, improve their mechanical or chemical qualities, and enhance their aesthetic appeal.
Die casting surface finishing has the following different categories.
Applications of Die Casting
One common application of die-cast parts is housings – thin-walled enclosures, often requiring many ribs and bosses on the interior.
Other common die-cast parts include propellers, gears, bushings, pumps, and valves.
Most commonly, die casting parts are manufactured for the automotive industry, such as wheels, blocks, and cylinder heads.
In addition, there are other industries in which die cast parts are used—for example, Aerospace, Domestic Appliances, Furniture, Power Tools, Electronics, Machinery, and Lighting.
Automotive Parts
Die-cast aluminium products are widely used in the automotive industry. For instance, gears, cylinders, a Heat sink for auto headlights, Gearbox housing, Engine cooling fan, Gear shift lever housing, Coolant pump housing, Water pump housing and end cover, and Auto air condition housing.
Aerospace Industry
Our magnesium and aluminium pressure die-casting service can produce light, durable structural parts for aerospace with outstanding corrosion resistance.
Lighting Industry
All kinds of lighting die casting parts, such as led street housing, and LED light fitting.
Commercial Products
Manufacture commercial parts, including compressor pistons and connecting rods, heat sinks, bearing housings, parts of the sink faucet, and meters. Metal housings for a variety of appliances and equipment are often die-cast.
Advantages of Die Casting
Die casting is an automated casting process in which molten metal is pushed under pressure (150 to 1200 bar) into a tightly closed metal die cavity and kept there by a powerful press until it hardens. After solidification of the metal, the die is unlocked, opened, and the casting ejected. After removing the casting, the die is closed and locked again for the next cycle.
The advantages of this production process are that it can produce hundreds of thousands of castings relatively quickly using just one mold. All components produced by die casting have a uniform quality and involve high precision and relatively low unit costs.
In simple words, we can divide the casting process into the following steps.
Fast filling of the casting mold with the alloy
Curing of the component under high pressure
Opening of the mold and removal of the component
There are numerous alloys available for projects involving die casting. The commonly used are aluminum, zinc, and magnesium. Also, you can choose copper, tin, and lead for custom casting parts,
Each alloy has its unique physical properties and advantages. RpProto can assist you in selecting the suitable alloy for your project.