Rapid Injection Molding Services
> For Prototyping & Production
> Up to 10,000 Plastic Parts Production
Rapid Injection Molding Services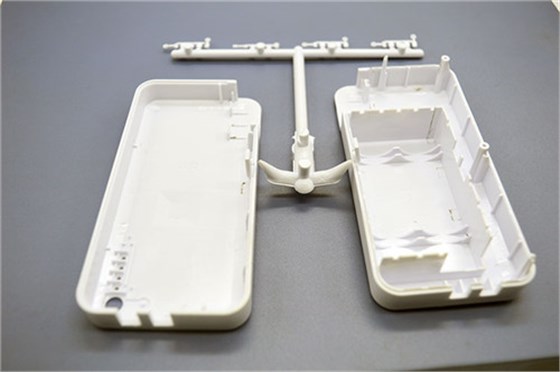 Injection Molding or Rapid tooling (bridge tooling) is excellent for low-volume (up to 100,00) plastic parts manufacturing. It enables us to produce thousands of high-quality plastic parts within weeks. In addition, the cost of the rapid mold is very low, which is more than 50% lower than that of full production mold.
RpProto can build rapid injection mold in a few weeks at a lower cost due to using cheaper and easy-to-machine materials, like aluminum. shorter lead time and at a reduced cost is critical for some customers.
In-house mold-making shop ensures your mold quality is under well control. We have 20 sets of injection molding machines.
Injection molded parts can be different materials such as ABS/PC/PP/HDPE/POM/PA6/PA6+GF/PVC/NYLON/PMMA/PET, Ect.
Get a Quote for Rapid Injection Molding
Upload your project files for a quick quote for your rapid injection molding and production parts.
STL | STEP | SLDPRT | IGS | IPT | PRT | SAT files
Injection Molding Options
RpProto's skilled team effectively manufactures high-quality injection molding. We use various materials and finishes to meet the needs of any industry or application. Here are some of the options available to you:
Overmolding
Overmolding is a process which makes one component mold over another. Overmolding is less expensive than other production methods since it eliminates the requirement for product assembly.
Overmolding is one of the most effective manufacturing methods for mass production with multiple colours or materials. Plastic overmolded components ensure proper alignment and prevent loosening of the different parts, which improves the product's strength.
Insert Molding
Insert molding is used to add usually metal parts to injection molded parts during molding.
Insert molding is used in a variety of industries, such as automotive, cooking utensils, household appliances, instruments, knobs, electrical components etc. Insert moulding not only saves money on labour and assembly, but it also decreases the size and weight of the part, increases component reliability, and improves part strength and structure while allowing for more design flexibility.
Materials of Injection Molding
Acetal polyoxymethylene (POM)
Acrylonitrile butadiene styrene (ABS)
Nylon 66 (PA66)
Glass-filled, polyamide (PA-GF)
High-density polyethylene (HDPE)
Low-density polyethylene (LDPE)
Polybutylene terephthalate (PBT)
Polycarbonate (PC)
Glass-filled polycarbonate (PC-GF)
ABS polycarbonate (PC-ABS)
Polyethylene terephthalate (PET)
Polymethyl methacrylate (acrylic) (PMMA)
Polyphenylene sulfide (PPS)
Polypropylene (PP)
Polystyrene (PS)
Polystyrene + polyphenyl ethers (PS-PPE)
Thermoplastic elastomer (TPE)
Thermoplastic vulcanizates (TPV)
Finish Options of Injection Molding
Painting
UV Painting
Screen Printing
Rubber Paint
Plating
Texturing
Painting
Painting makes the product present different colors, but many products's colors are adjusted by plastic materials.
UV Painting
Screen Printing
Rubber Paint
Plating
Texturing
Advantages of Rapid Injection Molding
Why should you choose our Rapid injection molding service?
Rapid injection molds can often serve as a transition between initial design and mass production, and are a cost-effective way to test new products, materials, and design tools. Rapid Injection Molding is much faster than the typical lead time for full-scale production injection molds.
Decades of experience
             Our engineer team has rich experience of making injection molding.
Advanced Equipment
            RpProto use top brand imported and Chinese made injection machines to make accurate moldings.
Unlimited Capacities
            Apart from our own facilities, we've developed excellent relationships with our partners. Injection machines ranging from 10 to 1000 tonnes are available for immediate use.