Materials for Vacuum Casting
Polyurethane resins are polymers with a wide range of properties and uses. RpProto offers a variety of polyurethane casting materials to suit your application, including Hei-Cast from Japan and Axson from France. The material properties are similar to engineering production plastics, such as ABS, PMMA, PC, PP, PA, etc. The types of castings can be selected from transparent, translucent to colored, soft rubber or hard plastic, even impact resistant, high temperature resistant (120°C) or fireproof (UL 94 V-0), as well as glass fiber filled, or silicone with different hardness .
PMMA-LIKE
Dedicated for glass, art and decoration sectors. Could be cast with or without vacuum casting machine in 50 mm thickness (but degas prior to cast in mould). Long working time, Easy to polish. Long term UV stability.
PX 522 HT
PMMA-LIKE
Dedicated to thin technical prototypes up to 10 mm, like lenses for headlights, traffic lights, light tubes, transparent covers, etc. Short demoulding time 4-5 minutes at 70°C. Good thermal resistance, easy to sand and polish. Withstand weather conditions. UV stable.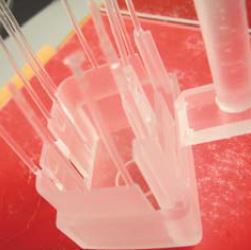 PX 225
ABS-LIKE
Technical transparent parts simulating polycarbonate. All parts simulating mass tinted ABS. Short demoulding time. High impact resistant. When long term ageing is required please use PX 521 HT as the best offer for UV stability.
PX 761
Rubber aspect prototype parts, seals.
The only soft PU able to withstand 100°C as a working temperature. Translucent amber colour; could be pigmented. Convenient pot life of 10 minutes.
UPX 8400
RUBBER-LIKE
Adjustable hardness Shore A 20 - 85, easy to process and pigment outstanding strength, low aggressiveness to silicone moulds. Dedicated to achieve rubber like prototype parts for all sectors of activities.
PX 234 HT
Similar to PPS or PEEK.
For all parts that have to withstand high temperatures, parts for engine compartments or household appliances. Really low viscosity, short demoulding time in 3 mm thickness. Even after final post curing it retains a nice flexibility.
PX 330
Technical parts for the aeronautical industry according to its FAR 25 certification. All parts requiring a fire-resistance rating in other markets. Rohs compliant for electrical casings.
ABS – HIPS – FILLED PP TYPE
PX 2017 HT
Used by casting for the production of prototype parts and mock-ups whose mechanical properties are close to ABS or filled PP. Thermoplastic-like resistance in temperature (TG > 180°C). Almost no change of mechanical properties after ageing under temperature. Good resistance to automotive fluids (except brake liquid). According to its exceptional compatibility with silicone moulds it's possible to achieve easily 50 castings in a mould without deterioration.
PX 223 HT
ABS-like prototype parts for small production runs in vacuum casting machines. High chemical resistance against standard automotive fluids (except brakes fluid). Temperature stability up to 110°C after appropriate post curing.
PX 100
HIPS-aspect prototype parts. Large dimensions possible with or without vacuum casting machines. (Will be replaced by UR 845).
PX 220
Pure white resin similar to PS Choc. For all parts requiring good impact resistance even with thin sections. Easy to make resistant clips or all parts submitted to stress, as piece of working mechanisms.
ABS – HIPS – FILLED PP TYPE
PX 226
Off white resin similar to high flexural modulus ABS or ABS/PC blends. Suitable for low tension electrical equipments like casings for circuit breakers or switches as well as for House hold appliances parts; coffee machines, vacuum cleaner and casings for medical equipments. Also in long pot life version of 8 minutes for large parts.
PX 245 / PX 245 L
The only filled system of the PX range, similar to P.O.M. and filled thermoplastics as filled PA 6.6. For all parts requiring high stiffness in flexion. The right answer to mould parts for coping machines, printers and all electronic devices. Good abrasion resistance.
PX 212
PP-aspect prototype parts. Automobile interior trim, covers for household appliances. Translucent, can be pigmented in all colours.Good heat resistance.
PX 205
Similar to HDPE. For all parts with an integrated hinge, pinions, guide rails, rollers, limit stops. Long pot life, 80°C of working temperature. High abrasion and impact resistance. Low aggressiveness of silicone moulds.
Download the available data sheets of the materials that we apply for  prototyping here.
Flame Retardant (UL 94 V-0) Material